Since cutting and colouring my hair, I've changed up products and the routine to look after my new style. So I thought I'd share a few hair care and styling products I've been loving this month, along with some great value hair accessories have really made my March full of hair happiness.
I've been really impressed with the L'Oreal Elvive Extraordinary Clay Dry Shampoo (£3.99) Part of the new range containing three clays which individually help hair. White clay purifies the roots, blue clay hydrates the ends and green clay revitalises the entire fibre. Impressive stuff! What I really love about this dry shampoo is that it's light, doesn't leave a chalky residue and smells fantastic. I've recently picked up the shampoo and conditioner in the range to try out so will report back on that next month. I can just about still pop my hair up, and have been using these Primark circle and diamond shaped clips. A bargain at £1 for two, they add a little interest to my half up twists and the circle shape is a pretty good dupe of the Celine hair clip.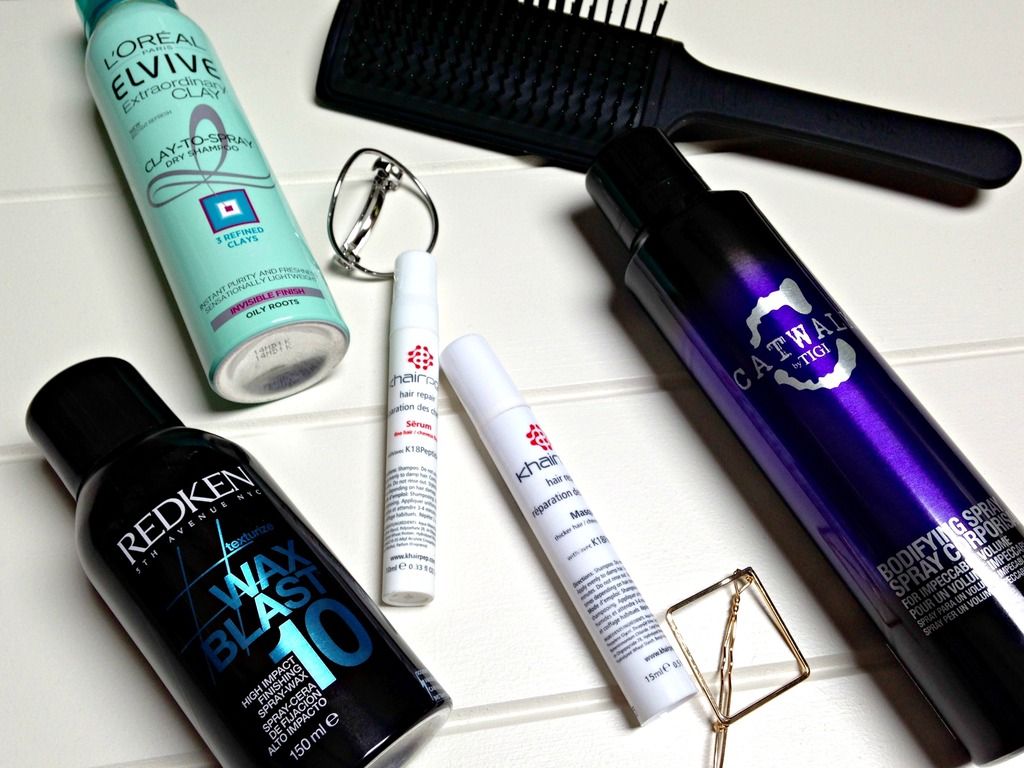 After washing I have been using the
TIGI Catwalk Bodifying Spray
*
(approx £8-£12 depending on stockists) It's a spray that helps boost volume, and I've noticed a big difference - even with rough drying my hair. Smells great, and doesn't feel sticky or weigh my hair down. If I want to boost my volume, I've been blowdrying using my Arconic brush
*
This specially designed curved brush (from stylist and salon owner John Gillespie) allows you to lift your hair and have greater control when blow drying. I've tried this out on my hair, and have used on clients, and although it's designed with medium to long lengths in mind, I've found it great for shorter styles (particularly mine!) If you have a Capital Hair & Beauty nearby, it's definitely worth picking one up. I have been raving about the
Redken Wax Blast spray
since I tried it out - and you know what, it's still hands down one of my favourite products. Quick blast of this will give texture to waves, or added grit to freshly washed hair. Read the full view by clicking the link on the product title.
The
KhairPep products
have helped keep my hair looking shiny and feeling in good condition. The Khairpep Transforme serum
*
is light and works really well on finer hair, and the masque I would definitely recommend for ladies with unruly thicker hair. I've used the serum once a week (usually on a Sunday pamper) You just add a couple of drops to hair, working through from root to tip. I'm planning on taking these sample sizes away with me on our trip to Italy, as they are the perfect amount needed and fit nicely into luggage allowances.