As a long time reader of Hair Advice, you'll probably be aware I've been trying to grow my hair to Rapunzel length for a LONG time now. It's gets to just below shoulders and stops. Always has.
So, I've been using a plethora of products and potions to get my strands growing and generally in tip top condition. From supplements to serums, I've left no hair growth aid unused in the bid for longer locks, and I think I might have cracked it!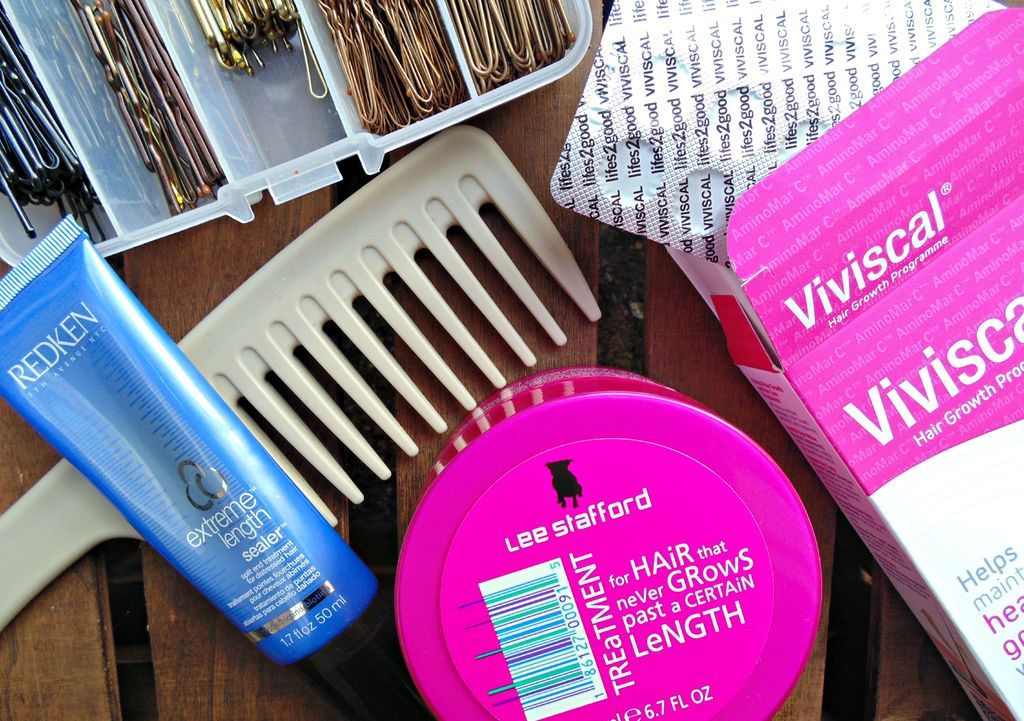 I've been taking the Viviscal Hair Growth supplement
*
as part of a three month trial, and whilst it can take a couple of months to show results, my hair feels stronger and I have been noticing less shedding - something that I've been concerned about in the past. I've a full review coming up as I know a few of you are interested in hearing how I've got on.
So, some of the hair products I've been loving to use the
Lee Stafford Hair Growth Treatment
, along with the shampoo and conditioner in the same range. I've used the treatment in the past, but I thought it was time to bump up the hair help. This along with the
Redken Extreme Lengths Sealer
are all in my routine, and so far so good!
I've also been avoiding styling my hair with heat at least three days a week. I'll either wear my hair natural (quite big, and with a natural wave after air drying - thanks humid evenings!) or it'll go up into my favourite 'bun in two minutes' or
milkmaid braids
.
Oh, and a piece of advice. If you sling your bag strap on your shoulder and regularly catch your hair (I do it ALL the time) make a conscious effort to move hair before you pop your bag strap on, or carry your bag on your arm. It'll avoid breaking and snapping hair at the ends and tugging painfully at the scalp and follicle. Taking care of your hair doesn't stop when you sleep, I popped up a
little hair advice for when you snooze
a while back and have been following it, wearing my hair loosely tied up has definitely made a difference.
Fingers crossed I get those extra couple of inches I've been after for years! (Phnar!)