May down, and we are into June. Here are the products that I've been loving this month. I'm all about the hair, but thought I'd share some beauty products I'm loving.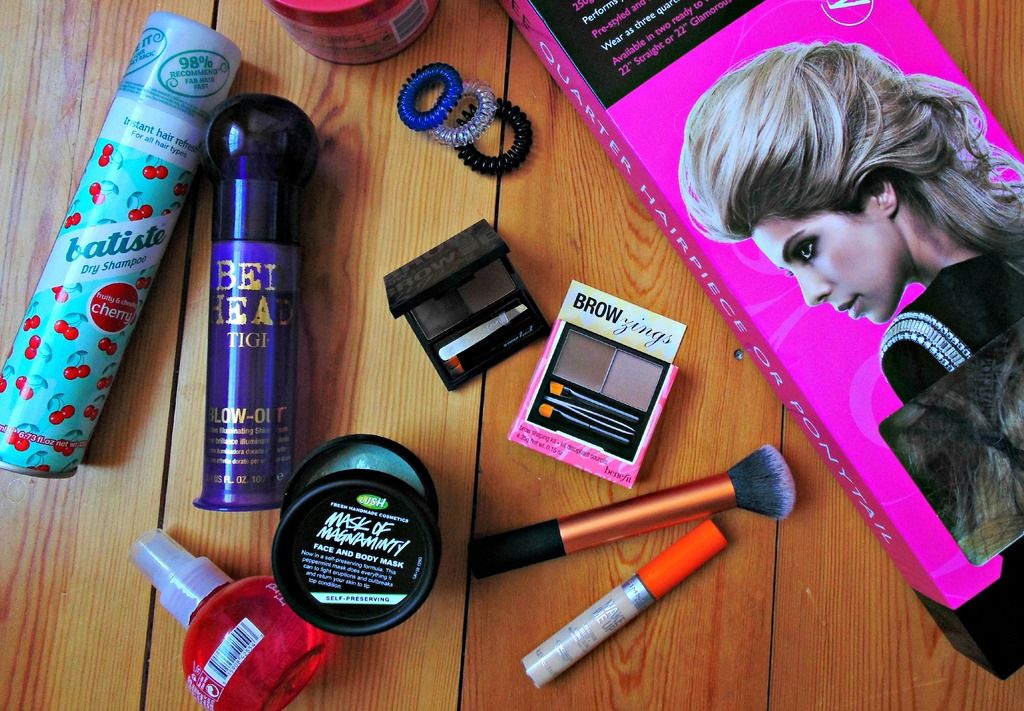 If you've not read all about the Hairaisers Live it Loud ombre hairpiece
*
, go check out the
review
I did. I love switching between my normal just below shoulder length hair, and super long locks. Easy to use and good quality.
Brow Zing by Benefit. An eyebrow life changer, and I'm a little ashamed to say it's taken me this long to pick it up. I had my brows tamed at the Benefit Brow Bar in my local Debenhams at the weekend and can't even begin to tell you how happy I am. Sounds silly but my brows have always been a bit crap and I'm beginning to love them now. The other beauty buy that is my third repurchase is the Rimmel Wake Me Up concealer, I love this concealer. It's strange, as the foundation made my skin break out, yet this concealer is perfect with just the amount of coverage needed and perfect shade match. I've been cooling down and refreshing my skin with LUSH Mask of Magnaminty. I love anything with cooling Peppermint Oil used as an ingredient and find this wakes my skin up without drying it out. I have quite sensitive skin and lots of masks leave me with a blotchy face but this is fab. Also been using this on my chest as I've been struggling with my skin due to a pill change.
Batiste Cherry is officially my favourite scent of dry shampoo from the styling saviours, I've gone through most of the range, but always come back to this one. I'm obsessed with cherries, be it sweets or shower gel so a little blast of cherry to help battle oily hair and boost volume is perfect. And great value too! I'm at the end of my Bed Head by TIGI Blow-Out, and will definitely be buying again, even Tom is loving this cream which gives hair shine and smoothes flyaways. Just one pump of these is enough to help my hair, and I've been using this as part of my evening hair routine to add some shine. Bed Head by TIGI are definitely one of my favourite brands at the moment, the Beach Bound heat protector spray is the one I'm using constantly. It smells great and I've definitely noticed the ends of my hair are in much better condition. It's a limited summer edition collection but I hope it stays around as I'm a big fan!